Moving in the UK: Change of Address Checklist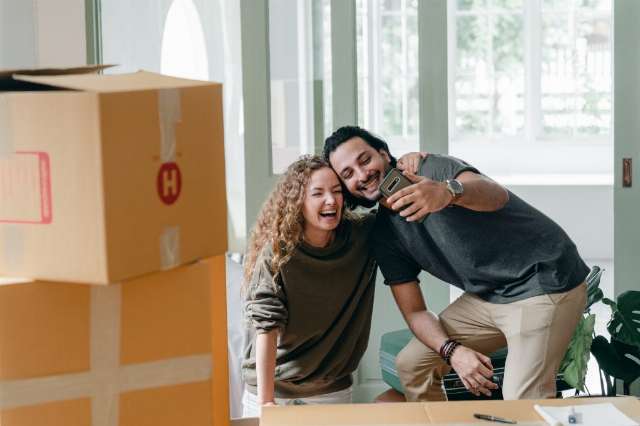 Moving house is not a simple task. From sorting your clothes and finding removal boxes to paying the final set of utility bills at your current place, there are just so many things you have to do!  You will also probably find that as your to-do list gets longer, the more anxious and overwhelmed you're going to get.
Because of how overwhelming and anxiety-inducing a house move can be, it is not at all a surprise that people tend to forget about some of the tasks that need to be done. To help with this, we have come up with a Moving House Checklist to help you stay on top of everything about your move.
On your moving house checklist, you will find that you will have to notify the necessary people and companies about your address change. However, this task is easier said than done. After all, there is quite a long list of people who will have to be notified of your move.
To make this easy for you, we've come up with a change of address checklist which you may use as a guide on who you should notify about your upcoming move, new location, and other address details.
Compare Removal Companies Quotes
Get quotes quickly and easily from a removals near you.
Change Of Address Checklist
Below are some items that should never be taken off a change of address checklist:
Friends and Family
You may opt to inform friends and family members personally, but sending a mass email can save a lot of time. You can download Change of Address Card templates from different websites on the internet. Just copy and paste the email addresses on the "To:" section of your email and send the card out. This way, gifts and packages won't get delayed or sent to the wrong address!
Post Office

Setting up a postal Royal Mail redirect in person or online ensures that your mail moves with you. It costs £33.99 per person, and although it's not free, it's a good back-up plan if you missed notifying an important person or organisation about changing address.
Banking and Loan
It's essential to prioritise updating your billing address as you don't want sensitive documents falling into the wrong hands. It will also be best to update your bank details as close to your moving date as possible. You can do this by logging into your online bank account or visiting your local branch.
If you're on a private pension plan, contact your pension provider. If you are a recipient of state pension, go to the official government website and contact the Pension Service to inform them of your new address.
Also, if you have credit cards and loans, make sure to update your credit card and loan companies to make sure you get your billing statements on time.
Home Insurance

Once you've transferred to a new place, your home insurance will be recalculated. It's essential to inform your home insurance provider by updating your online account or by calling them. They will then recalculate your insurance rates based on factors like your the size and location of your new property.
Vehicle
A £1,000 fine sounds awful, we know. That's why you need to inform DVLA on your change of address. Driving license records can be updated either through post or through the DVLA website, free of charge. Your updated license will then be sent in around two to four weeks, but if you applied online, you could receive it within one week.
You'd also need to change your address on your vehicle registration and vehicle's logbook or V5C for your vehicle tax. Make sure to do this, or your vehicle tax reminder letter (V11) and any vehicle tax refunds might continue to go to your old address.
If your vehicle needs taxing in the next four weeks, tax your car online before sending your V5C to DVLA.
As for your car insurance, you can update your change of address through your insurance provider's website. You can also give your car insurance provider a call and update them. If you have a separate vehicle breakdown cover, inform them as well. They might have to adjust rates depending on the distance and location of your new home.
Health Insurance and Healthcare Providers

Depending on how far your new home is, you can either find new doctors or stick to your current healthcare providers. For the latter, don't forget to update the NHS about your new address–you'd surely want to keep sensitive health status and information private.
Before travelling out of the country, make sure to update your EHIC card details or any other travel insurance providers.
Employment
To avoid complications in paying you your wages or sending you payslips, you need to update your employer as well. It's also a way to let them know in advance about your moving day. If you are starting a new job, it would still be beneficial to provide your previous employers with a personal record that has your updated address details and contact details. This will make it easier for them to reach you should they need to send you important documents.
Local Government and Tax
It's essential to keep your names on the electoral roll to maintain your voting rights in the next election. Make sure to submit a new registration with your new address. It would also be essential for you to inform local authorities about your move.
HM Revenue and Customs need to be informed so they can update your records. This is for your income tax, national insurance, tax credits, council tax, government benefits, and pension services. Just sign in using Government Gateway and put in your new address through the official UK Government Website.
Mobile Phone, Internet, and TV
If you still want a landline at your new house, you can inform your current phone company since you may be able to keep the same number. But if you're looking for better packages, it's common for movers to get new service providers.
Are you looking for better TV and broadband deals? This is your best chance to switch! But if you're satisfied with your current service provider, you can let them know about the changes for billing purposes and to ask them to transfer your service line to your new address at the most convenient time.
As for your TV license, changing your address can be done through the TV licensing website. It's free and can be done three months before your move.
Utilities and Other Postal Subscriptions

While finding new supply service providers for your new house, don't forget to prepare for closing your final bill for your previous home. We recommend you give your old energy supplier at least a two-day prior notice before the move date.
These are also some of the most common subscription services that you'll need to notify about your change of address:
E-commerce sites like Amazon
Streaming services like Netflix
Gym or sports club
Magazine subscriptions
Cleaning services
Online shopping sites
More Things To Consider Before You Move or Change Address
Here are more things to keep in mind when changing address:
If you have a pet, make sure to find a new veterinary clinic you can take them to. If you have a pet insurance provider, you must also inform them of the change of address to ensure your pet stays insured.
Find out if your new neighbourhood has free parking or if you will need to file for a resident parking permit. The last thing you want to deal with are penalties when you're supposed to be unpacking and settling in!
If you have school age children, you must also make sure to look into the educational opportunities afforded to them in the area. Would their be private schools with affordable tuition fees or will you need to spend a bit more?
Final Thoughts
Changing addresses can be stressful and can take a lot of time, and this change of address checklist may just be helpful in easing the stress that comes with the process.
Meanwhile, if you are in need of more help for your upcoming move, do consider hiring a WhatRemovals partner. Through our website, the best London removal companies, as well as professional movers from all over the UK, are just a few clicks away. Here you can check, compare, and find the best deals for removals companies on the market.
Check out the Comprehensive Moving Advice section on our site to find articles and practical guides about moving house.
Compare Removal Companies Quotes
Get quotes quickly and easily from a removals near you.