How to Plan and Organize an Office Move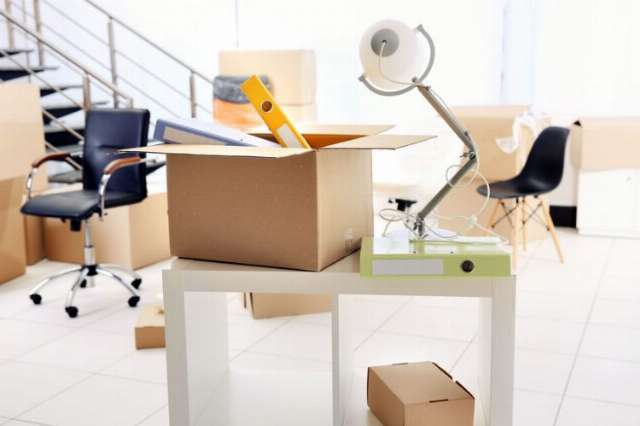 An office move is something every business goes through sooner or later.
Often, an office move happens because of a variety of reasons: a need for more space, a more suitable location, or a better office layout.
Regardless of the "why" they happen, office moves are exciting… AND scary at the same time.
But, since you're here, reading this, you know that already, don't you?
A Little Planning Goes a Long Way
We get it, moving an office seems like a daunting, nerve-wracking task. But, getting stuck in this mindset will do you no good. Here's a list of mistakes to avoid when relocating your company.
Think of an office move as an activity just like any other – something that can be accomplished quite easily once it is broken down into a series of steps. And that's precisely what we will do below.
Without further ado, let's dive right into our ultimate movers' blueprint which will ensure that your office move goes as smooth and hassle-free as possible.
Set the Timeframe
First, you have to determine the timeframe of the office move project. To make sure that your planned schedule is feasible, discuss it with higher management, and each of the teams' managers. As a general rule of thumb, you will probably need anywhere between three to six months to conduct the entire offfice move, all depending on the size of your company.
Take Out Your Magnifying Glass
An office relocation is not as simple as just packing up your office furniture and the things you have in your current office, and unpacking them at a different location.
The new space will have a different layout and different size, so before you actually pack anything, study the floor layout and determine where your storage spaces, reception area, and of course, offices are located.
Knowing the layout of the place is crucial, as you might find out that there is not as much storage space as you need, or that it is an open space better suited for an ocean system seating rather than the typical office layout you are accustomed to.
Once you have noted everything down, go ahead and make the necessary changes before actually packing up your things and taking them to the new location.
Stop, Look and Listen
To make sure that the new office space fits your entire company's needs, you have to communicate with the upper management and the team managers. Find out their specific requirements and find compromises for any spatial specifications and new furniture or equipment you will not be able to provide.
Various departments will need different things from the new office be it extra storage, additional phone lines, and so on.
Once you have the needs and requirements of these departments, assign someone to make sure everything has been acquired to ensure a smooth and efficient transition from the existing office to the new space.
Get Everyone in the Same Boat
Not only is it important for you to know all the details of the move – but you also have to pass on this information to your employees and teams.
This way, they will know the amount of time they have to finish their work and optimize their activities for maximum performance.
To make the packing easier, ask each department head to jot down a list of all the things from their department that will be moved to the new office space. Ensure your employees that you will provide them with enough time to finish up packing. Remind them to take all personal and valuable belongings with them instead of leaving them with the removal company.
The Unavoidable Money Talk
The next thing to do before you hire the movers is to set your budget and determine how much you are willing to spend.
Setting up an expected budget is the only way you can control your expenses. It is important to remember, though, that surprises may come up throughout the moving process or even on moving day. So, be sure to set aside a portion of your budget for contingency or emergency expenses.
The Moving Company: Choose Wisely
After everything is set for the move, you have to think about which moving company to trust with this office move, and go ahead and hire one.
Take various options into consideration, as not every moving company is a good choice. Most importantly, make sure that the company you pick has insurance, and get them to send you a copy of it. Read more about removals insurance here.
Schedule the Move
Get in touch with the building to which you are moving your office and find out about the suitable time for the movers to carry over your things.
Most buildings will not allow you to take your things especially bulky furniture to the office during work hours, as this might disturb other companies and their workers that have their offices in the same building. Here's a guide to hiring furniture movers if you've got loads of furniture you need to take with you in your new office space.
If possible, consider moving over the weekend.
Put Some People In Charge
On the day of the move, it would be a good idea to have some managers from your company overseeing the whole process. But, be careful not to delegate this task to too many people – in this case too, "two is a company, and three is a crowd."
Having one employee controlling things at the old office, and one welcoming the movers at the new building is enough for everything to go smoothly – so do not overdo it. One factor that can help is automating conversations with customers on your website this can make things more efficient.
Take Care of the Details
If you have plants or some pieces of artwork, you need to find someone to take care of them.
Moving companies usually do not carry plants, so employees have to take care of this thing by themselves.
However, you can take the burden off your employees' shoulders when it comes to artwork.
There are people specialized in taking care of artwork and finding a suitable place for each piece in the office space, so it's really easy (and extremely convenient!) to find someone to decorate and hang the art for you, instead of leaving this task to your employees.
And Voila! You're Done!
Once you have arrived at this step, congratulations are in order, as you have successfully planned your office move!
The most difficult and stressful part of the task is behind you, so now all that is left for you and your employees is to get used to the new space and learn "what goes where", and use it to create many great things together.
Guest Author Bio: Jessica Hanson is the head of content for Hire A Mover – her fathers moving company. In her spare time, she enjoys travelling around the world to different surf spots and tasting the local cuisine.
Compare Removal Companies Quotes
Get quotes quickly and easily from a removals near you.