How Much Does It Cost To Move Houses?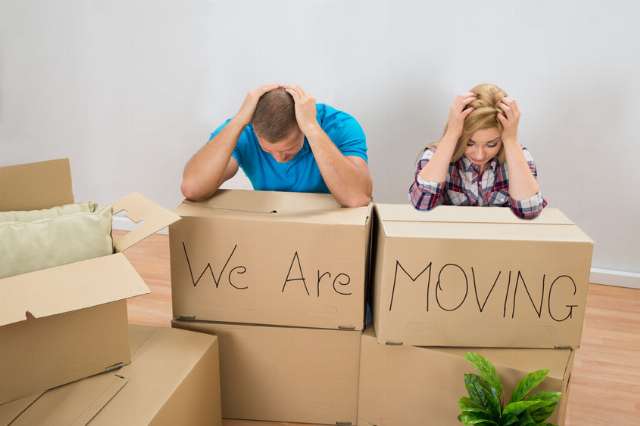 Are you planning on moving houses but unsure about where to begin? Or how much it would cost you? Well, you're not the only one! Many movers around the UK are facing the same dilemma as you are. That is why to help you and your fellow movers out, we've gathered some information that you would find useful while working out the details of your move.
What Kind Of Fees Do I Have To Pay?
The term "moving cost" involves far more than just how much you'll be spending on the act of moving alone. There are several other costs such as rent deposits, transfer fees for selling your old house, etc.
Here are some of the typical moving house fees you have to pay in the UK, what exactly they are for and how much they may actually cost.
1. Purchasing A House

House Valuation Fees
If you are planning on purchasing a house with a mortgage, then a house valuation will definitely be a requirement in your mortgage application. Mortgage providers use this to confirm whether or not you are paying for the actual value of the property.
Some mortgage providers will throw in a free house valuation service in their package. However, it's best to be prepared than to come up short with your budget. Property valuation costs are based on the actual location, size and value of the property.
Typical Costs: £125 to £600 depending on the aforementioned factors.
Stamp Duty / Land Transaction Tax
In England or Northern Ireland, any residential property purchased for over £125,000* is subject to the stamp duty land tax (SDLT), which must be paid to the Her Majesty's Revenue & Customs (HMRC) within 14 days of completion.
You may elect to do this yourself or your solicitor may do it for you. Meanwhile, SDLT rates may be adjusted when you are buying your first home or purchasing a residential property worth more than £500,000. Moreover, HMRC has announced that SDLT rates will temporarily be reduced for properties purchased between 8 July 2020 and until 31 March 2021.
On the other hand, if you are purchasing a property in Wales, you will have to pay the Land Transaction Tax when you purchase residential properties worth over £180,000*
*SDLT rates are subject to the actual price of your purchased property
Land Transaction Tax rates are subject to the actual price of your purchased property
Property Surveyor Fees
A property survey aims to find any issues in a prospective house. Like a house valuation, a house survey report is a requirement for your mortgage application process.
Typical Costs: £0 to £94,000+++ Depending on the aforementioned factors.
There are three popular types of home surveys as determined by the Royal Institution of Chartered Surveyors, or RICS, namely the HomeBuyer Report, the Home Condition Survey and the Building Survey.
Each survey type is used for a specific purpose and is priced differently.
1. A HomeBuyer Report, which costs around £500, provides an in-depth look at the property/ However, surveyors will only take a look at the house as it is, and will not move furniture or check behind the walls.
2. A Home Condition Survey costs around £400-£500 depending on whether you want a house valuation report to come with it. It essentially provides a rating for the property as a whole, together with suggestions and recommendations on how to fix the issues.
3. A Building Survey costs at least £700. Here, a survey conducts a Home Condition Survey, as well as a structural survey, before providing the client with a list of suggestions and recommendations on how to address the issues found.
Typical Costs: £400 to £700+++ Depending on the kind of survey and property size.
Note: If you are buying a property in Scotland, it is the seller who will be shouldering the cost of such fees.
Solicitor Fees / Conveyancer Fees
A solicitor or conveyancer handles all contracts, provides legal advice and property advice, helps with carrying out local council searches, deals with the Land Registry, coordinates with mortgage brokers, pays the fees and sale price and serves as a middleman between you and the seller.
Sellers usually charge fees based on either a fixed fee, an hourly rate or a percentage of the property price.
While a conveyancer or surveyor is not a necessity, hiring one can help make the process of purchasing a house much smoother. 
Typical Costs: £860 to £2,100+++ Depending on the aforementioned factors plus other fees like Search Fees and Land Registry Fees.
Property Costs/Deposit
A deposit is essentially a commitment to you purchasing the property. Such amounts are usually around 10% of the property price but can go anywhere from 5% to over 50% depending on the seller.
If you have a solicitor, these costs will also have to go through them.
Typical Costs: 10% of the actual property price. For a property costing the average UK Property Price of £231,855, the deposit would cost £23,185.5
2. Selling A House

Estate Agent Fees
An estate agent is mainly in charge of marketing your property to potential buyers, providing guided viewings of your property and mediating between you and the buyer.
Most estate agents charge between 1% and 2.5% of the locked-in property price but some may offer to work on a fixed rate basis.
Typical Costs: £1,000 to £25,000+++ Depending on the aforementioned factors
Energy Performance Certificate (EPC) Costs
A house on the property market is required to be on the Energy Performance Certificate (EPC) Register. An EPC determines the energy efficiency rating of your property and whether it can be improved based on your area and the type of property you have
Typical Costs: £60 to £120
Solicitor Fees
If you are selling a house and buying a new one, you may easily appoint the same solicitor to offer legal advice, property advice and handle
Typical Costs: £820 to £2,000+++ Depending on the aforementioned factors
Home Survey Costs (If Applicable)
Such home surveys are usually shouldered by the buyer all across the UK. However, home reports are the responsibility of the seller of a property in Scotland. The home report will categorize your home into one of three existing categories.
Category One – No immediate repair is required
Category Two – There are non-urgent issues that need attention
Category Three – There are risky issues that will need to be attended to immediately
Typical Costs: £350 to £400+++ Depending on the price of the property.
Capital Gains Tax
A capital gains tax is applied to the profit you make upon selling an asset that has increased in value. If you, for example, purchase a property for £225,000, renovate it, and then sell it for £325,000, then you will be taxed for the gain you've made.
The amount you make after subtracting the cost of your purchase will be considered as profit.
Typical Costs: 18% of the total profits from the property for basic rate taxpayers, and 28% of profits for any amount above the basic tax rate.
3. Renting A House

Because not all movers are homeowners, we've also gathered some costs that renters should be aware of. Here are some of the most common fees you, as a renter, may come across:
Holding Deposit
Holding deposits are payments you make to a landlord or leasing agent to reserve a property. This is usually returned to the renter if the landlord decides not to rent them the property. However, it is also important to note that you should only pay the holding deposit if you are serious about renting a certain property. Otherwise, your landlord may opt not to return the money.
Tenancy Deposit / Security Deposit
New tenants are required to make a tenancy or security deposit to cover any damages they may inflict on the property during the duration of the tenancy. This deposit may be refunded in full to the renter if no damages are made and all rent is paid.
Referencing Fees
When a letting agent runs to see if someone is a good tenant. They will be contacting previous landlords and current employers to get a sense on the renting capabilities of a person. This may cost anywhere from £75 to £100.
Upfront Fees (if applicable)
If you are an international renter or have bad credit, you will have to find a UK rent guarantor. However, if you fail to provide one, you will have to pay a portion of your rent upfront.
4. Moving Fees
Removals Company or Man and Van costs
When you move to a new home, you are most likely to be carrying a whole lot of stuff with you. Now, you may transport all your stuff on your own, however, this may lead to irreparable or irreversible damage to your belongings and your vehicle.
To keep this from happening and to ensure that moving day is nothing but quick and smooth-sailing, you may opt to hire a house removals firm or a man with a van. We have the best moving companies in London, Edinburgh, Coventry, and many places in the UK whether you need local or international removals.
Both service providers offer moving services that may, or may not, include the packing and unpacking of your stuff, loading and unloading of your stuff, moving your furniture into their vehicle, among many others.
You don't have to worry about paying for multiple trips as most companies offer different van sizes which will cater to any of your needs.
Hiring movers may be tricky, so be sure to check out this guide.
Also, when you look at the big picture, you will see that the removals costs or man and van costs are less pricey than getting the packing materials and renting and driving a moving van yourself! So be sure to weigh your options before you decide!
Moving home also requires you to do a lot of packing. To help you save time on this task, here are some moving house tips you may find useful.
Postal Redirection Fees
Take note that postal redirection is based on a person\s surname, so if you are moving with someone of a different surname, remember that they will have to pay for redirection as well.
When we move homes, mail redirection is one thing we often forget to take care of. This will ensure the diversion of your mail from your old address to your new address.
Mail redirection usually costs between £31.99 and £62.99 depending on the time you require.
To make sure you remember to redirect your mail, it would be useful to have a moving house checklist on hand.
Other Moving Costs
When you are moving home, it is almost inevitable that you'll be encountering surprise costs along the way. This could come in the form of parking fees, toll fees, petrol fees, etc.
Moreover, you will also have to pay for professional end-of-tenancy cleaning services, if you are vacating a rental property, and other admin fees such as photocopying of documents, key cutting and the like.
Self storage fees also fall under this category, in the event that you decide to rent a unit for your belongings.
On the other hand, you'll surely make plenty of adjustments after moving to your new home. To help you start with, do check out this list of top 10 things you should find after relocating.
Compare Removal Companies Quotes
Get quotes quickly and easily from a removals near you.