What To Do With Cardboard Boxes After Moving: A Guide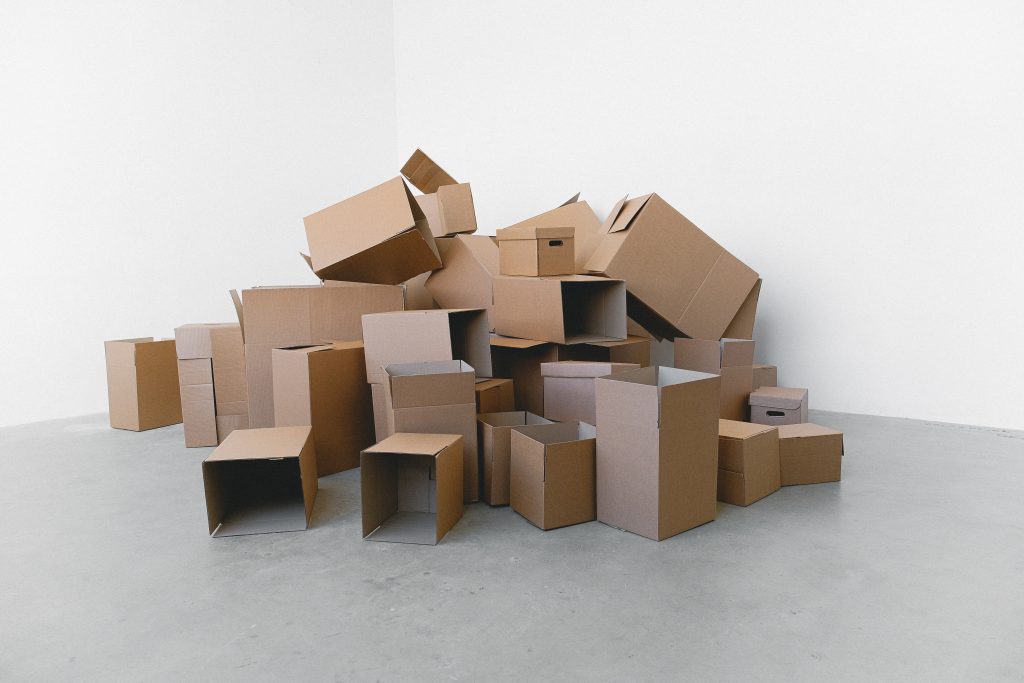 Cardboard moving boxes are often the holy grail of any relocation project.
Read the Benefits Of Using Corrugated Moving Boxes here.
They are strong, sturdy and will keep your belongings safe during the move. They also have an efficient shape that allows them to be stacked on top of each other without creating too much strain for you or your movers.
Here's a list of the Must-Have Packing Materials For A House Move.
However, cardboard moving boxes are only helpful for so long. Once your move is complete and you have unpacked all of the items inside the cardboard boxes, they will take up space in your home. Eventually, you'll need to get rid of them altogether, but that doesn't mean you should place them at the curb to be hauled away with your regular garbage collection.
Keeping cardboard moving boxes is fine, but what do you need to do after a move? Below, we've put together an easy guide on what you can do with those cardboard boxes after moving.
Things You Can Do With Your Moving Boxes Once You Are All Moved In
Here are some ideas for what you can do with your used cardboard boxes after moving.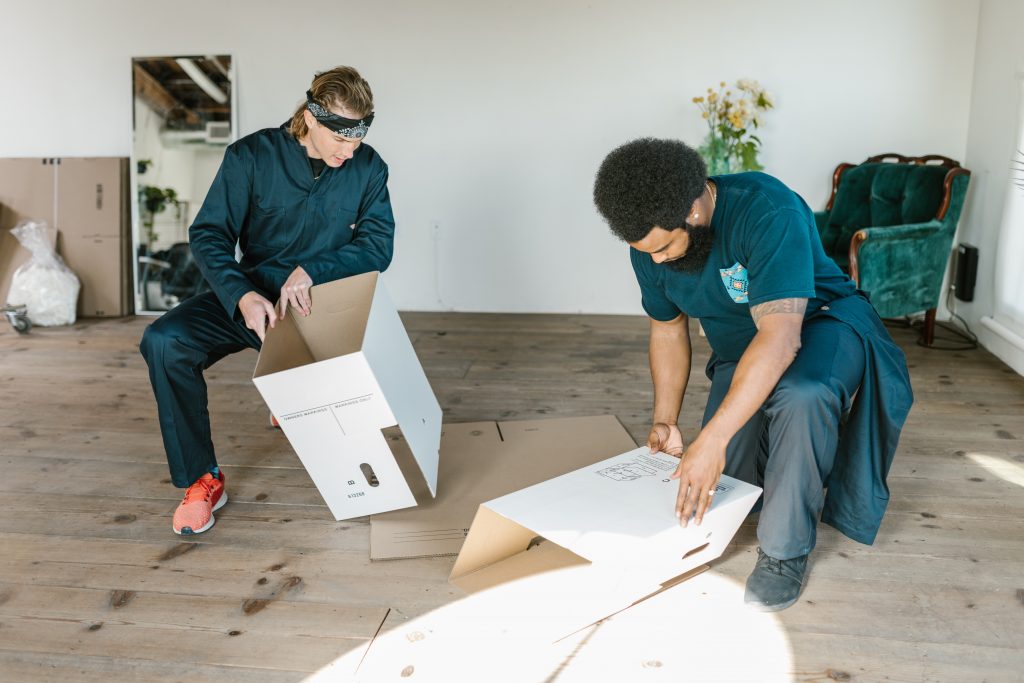 If you used a removals company to help with your move, they would likely be able to take the boxes back from you. This is because their trucks have enough space for them and returning moving boxes helps companies reduce costs overall. While you might not get a full refund back on the boxes, you will at least be able to recoup some of the money that was spent on them. You may enquire on this specifically prior to signing up to any removal company. Check out our moving companies in London, Bristol, Manchester, Liverpool, Birmingham, and anywhere near you and get discounted price on your move.
Read about all the services a professional moving company can provide here.
Returning the cardboard moving boxes to your professional moving company also allows you to free up some space in your home. They take up a lot of room, and having them out of the way will help give you back that valuable square footage for other purposes.
Just make sure your empty cardboard boxes are still in good condition, and there should be no problem with returning them. You will need to make sure that they are properly sealed and aren't torn or ripped in any way either.
It is also best to return any unused moving boxes to your moving company to make sure these boxes do not go to waste. Instead, they can be used to help move other people in the future.
Bring It To A Local Recycling Centre
Another thing that you can do with your cardboard boxes is bring them to a recycling facility. This might seem like an odd idea, but actually, many people recycle moving boxes regularly.
Recycling moving boxes also has other benefits too. Not only will it help to reduce waste but recycling cardboard boxes can be better for the environment. This is because they are broken down and turned into new products like cereal boxes or egg cartons, which means that less energy will be required to make them in the first place.
If there is no local recycling center in your area, breaking them down and taking them to recycling bins in your local area is also a better alternative than sending them to a landfill.
Give It To Someone Who Might Need It
Another thing you can do is give your cardboard boxes to someone who might need them. This could be as simple as asking a neighbour if they have some moving coming up or posting about giving away free moving boxes on social media to see if someone needs them. This way, you will be able to help out those in need and still get rid of your cardboard boxes simultaneously.
The Freecycle network is also an excellent place to look if you want to give away cardboard boxes. This is a network of people who post about giving away things for free, which means that your moving boxes should pop up on the list fairly quickly.
Many other websites also allow users to advertise items they no longer need, like moving boxes, for free. These sites often include classified ads websites like Craigslist and eBay Classifieds, too.
Donate Your Cardboard Boxes To Charity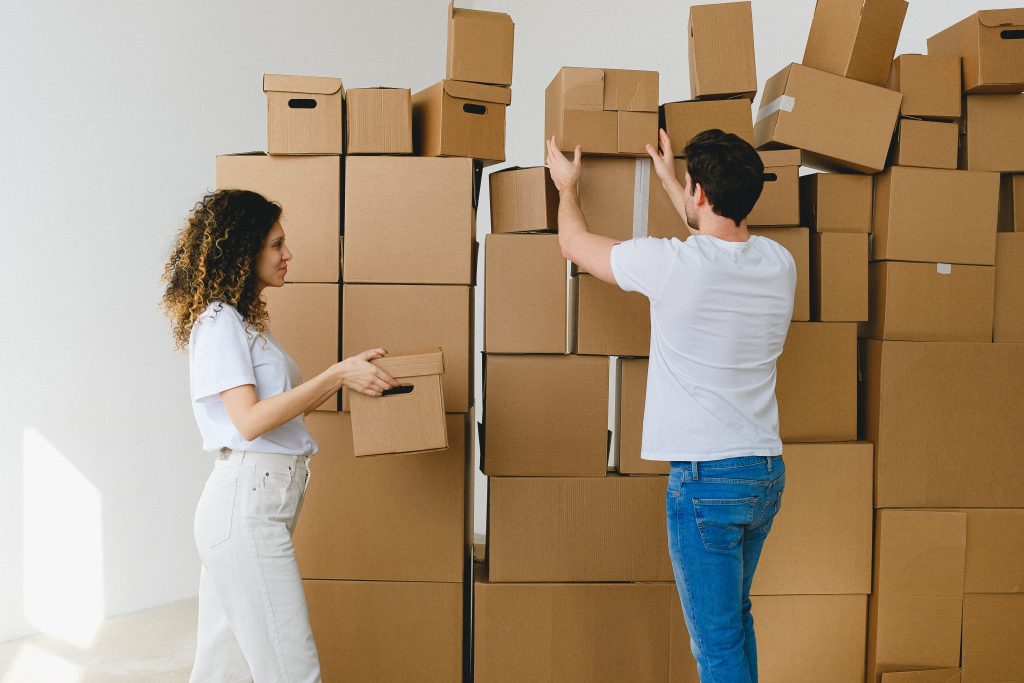 If you're not able to give your cardboard boxes away then another option is donating them. You can find a local charity that would be willing to take the used moving boxes off of your hands and use them for other purposes.
For example, most charities will be able to put the cardboard boxes to good use in their day-to-day operations. Whether using them as packing materials or transporting items, you can rest easy knowing that your cardboard boxes are being put to good use.
Sell Your Boxes
If you aren't interested in recycling or returning the boxes, another option that might appeal to you is selling them on an online buy and sell website. There are lots of websites out there where people will pay for used moving boxes. They are often full of other people's unwanted items, or they can be used to transport these things from one location to another.
The price you might get for the moving boxes will vary depending on their condition and how many you have, but it could still end up being a nice little windfall that helps with your move somehow.
Use It For Composting
Some people have been known to use their cardboard boxes for composting. If you don't know what this is all about then here's a quick rundown: composting involves using organic waste materials and decomposing them into rich soil that can be used in the garden or elsewhere around your house.
Cardboard boxes are often made from recycled paper, which is often what you'll find in compost bins. As such, using them for this purpose can be an effective way to recycle and reduce waste at the same time.
Not only that, but it also means that you won't have to buy composting materials straight away or spend money on expensive pots or biodegradable bags either. Instead, your cardboard boxes can be used to help you create all of these things at a fraction of the cost.
Upcycle Your Boxes
You might want to upcycle your cardboard boxes so they can be used in different ways around the home. For example, you could create a playhouse for children out of them or even build a cool costume for Halloween.
Here Are Some Tips On How To Move With Children In Tow
You could also use the boxes to create a photo display or even build your own furniture out of them if you are feeling really creative! The possibilities are endless when it comes to upcycling cardboard boxes and this is another great reason why they can be so useful around the home.
Also, you can put the boxes to good use by turning them into planters for your garden. Cut out one of the sides and put some soil inside before adding your plants or seeds.
If you are planning on giving away gifts soon, you can also use your moving boxes to make gift baskets. Cut out one of the sides and add in all kinds of goodies before closing it off with tape or glue. You could even add a bow on top if you wanted!
Cut The Boxes Up And Reuse Them As Cardboard Sheets
Some people like cutting up their cardboard boxes so they can make new things with them instead of throwing them away. For example, you might be able to make a new wardrobe or build some simple shelves and cupboards instead of buying these items from somewhere else.
You can also cut the boxes up and use them for other purposes like lining your kitchen drawers with them, so they don't scratch anything as you open and close them again. Plus, if you have pets, they might also be helpful for lining pet cages.
Meanwhile, if you are planning on doing some work around the house (i.e., painting, building something, etc.), then you might be able to use the boxes to protect your floor or other areas. Place them down under anything that could potentially get paint on it and cut a hole in each box so you can walk around without tripping up too much.
Use Your Boxes For Storage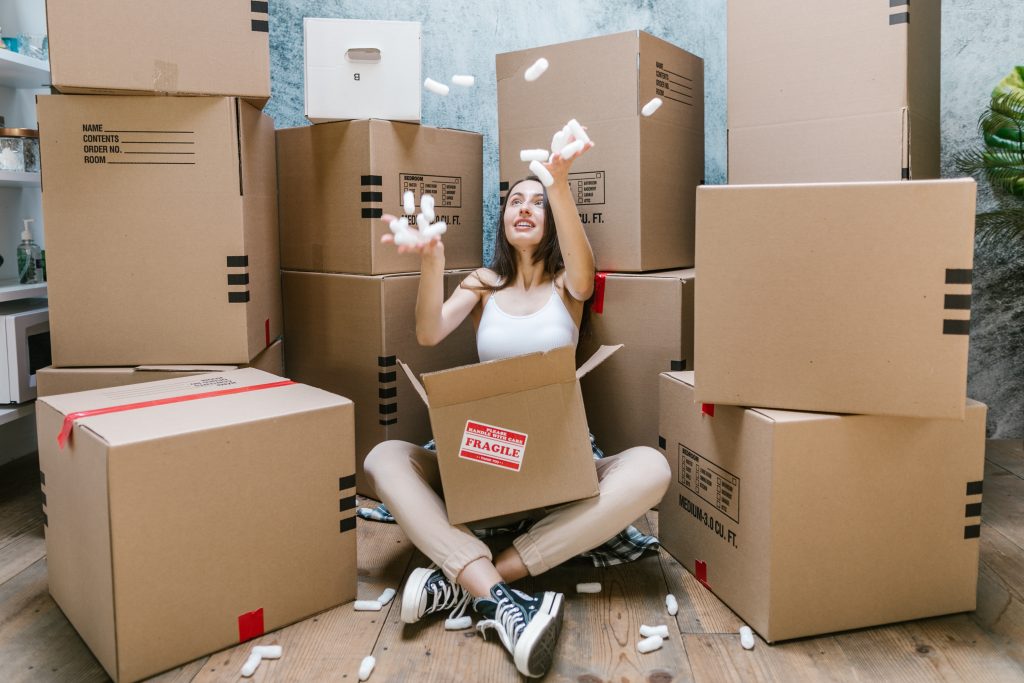 Moving house is always a good time to sort out your life and get rid of things that you don't need anymore. However, you might want to consider using some of the boxes for storage instead if this appeals to you more.
Items like books are often much easier to store when they are kept flat in cartons rather than upright on shelves. This is because they won't take up as much space and will stop them from getting damaged too.
Meanwhile, you might also want to store extra clothing items in your boxes so that it saves a lot of time when unpacking later on. This way everything can stay nice and neat until you decide what to do with it next or have enough space to put it away.
Another option is to use the boxes for storing things like kitchenware and crockery instead of keeping them in your cupboards. This way, you can keep everything neat and tidy until you need it again, which will also help save a lot of time when unpacking later on!
You could even use your boxes for storing all kinds of other things like shoes, toys and blankets. Then you won't have to waste time looking everywhere else when unpacking or sorting through your belongings at a later date!
Use The Boxes As Fire Tinder To Start A Fire
If you plan camping or having a barbecue with friends, then cardboard boxes can be handy for starting fires. Place some kind of flammable materials inside the box (i.e., wood shavings, paper) and put it in your fireplace before lighting it up.
Break Them Down And Set Them Aside For Upcoming Projects
Lastly, you might want to consider breaking down your cardboard containers and setting them aside for upcoming projects. For example, if you are moving house again down the line, you might use them to pack things up again.
You might also get struck by creative inspiration at some point and want to use your cardboard boxes for something different. Plus, you can also keep them aside in case of emergencies where they are needed again, too.
Such boxes are really versatile and can be used for various things. So you might as well hang onto them as long as possible before throwing away or recycling them later on.
Call A Waste Management Company
Meanwhile, if you think your used cardboard boxes are no longer fit for purpose, then you might want to call a waste management company. This way, they can come and collect them from your house and properly dispose of them right after.
This is always a good idea because it's not only the environment that you will be helping out. But by recycling your used cardboard boxes, you could also get money off for future services too! This means they can help save you some time and cost as opposed to just throwing them away in the rubbish bin.
Final Thoughts
And there we have it, a complete guide for what to do with your used boxes after moving. Now you won't need to worry about getting rid of them or finding other uses for them anymore and can focus on something else instead!Meanwhile, if you are still looking for more post-moving tips, check out this list of Things Everyone Should Find After Relocating.
Compare Removal Companies Quotes
Get quotes quickly and easily from a removals near you.