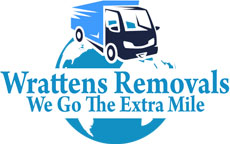 Moving House can be stressful...except when you move with Wratten\'s Removals
Servicing the following areas
Business Hours
| | |
| --- | --- |
| Monday | 6:00 am to 9:00 pm |
| Tuesday | 6:00 am to 9:00 pm |
| Wednesday | 6:00 am to 9:00 pm |
| Thursday | 6:00 am to 9:00 pm |
| Friday | 6:00 am to 9:00 pm |
| Saturday | 6:00 am to 9:00 pm |
| Sunday | 6:00 am to 9:00 pm |
Wrattens Removals is one of the most reliable companies around. Our team consists of highly skilled professionals who are one of the very best in what they do. Our team works hard to provide you with a fast, efficient and hazard-free removal. We provide the best packaging materials to ensure the safety of your property. With Wrattens Removals, you will have a fast, safe, hazard-free and relaxing moving experience.Our domestic storage ensures the complete safety and security of your items. We provide rooms or varied sizes to meet the different needs of your clients.
Wrattens Removals' aim has always been achieving client satisfaction. We provide our best to meet all the requirements of your clients. We offer the best of your services within the most competitive prices. Our prices are affordable, cost-effective and reliable. With Wrattens Removals, you will get the best services within the most reasonable prices.

Read more
Services
Single or Multiple Furniture
Customer Reviews
Wrattens removals were amazing today. My MIL was really nervous about having removal men come in and that they had agreed the job with less than a weeks notice but they did nothing but pit her mind at ease. we were all so impressed and the job they did and how courteous they were. Thankyou for turning quite a stressful situation into a pleasurable experience for my MIL.
Read more
Reviewed on Facebook
Not only could I not find any fault with these amazing miracle workers, I also could not think of anything that was not 110%. Absolutely amazing!! We needed to move with little notice and our house was beyond full with 3 kids and too much disorganised stuff everywhere! Tim and his team swooped in and just took control- all with a smile and a laugh! Helped calm us in a very stressful situation by being so efficient and just generally fantastic! Did more than asked and I am so glad we found them. I could not love a company more!!
Read more
Reviewed on Facebook
Amazing service. Friendly, reliable, nothing was too much bother. dismantled beds put back together in new house. Tim and his lads even managed to get our sofa through patio doors that they needed to adjust to make that happen. It was a pleasure to have them move us.
Read more
Reviewed on Facebook
Compare Removals Costs and Companies
Get quick and easy quotes from a Removals Company near you