8 Tips On How To Prepare for Professional Movers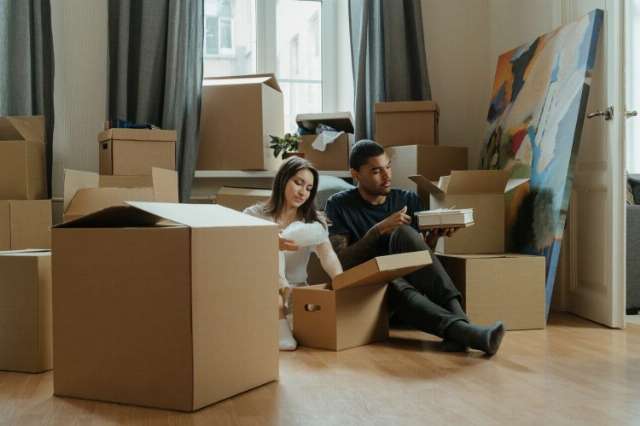 Moving all your belongings to your new house can be tough. There are a lot of things you should prepare and take into consideration for it to be smooth-sailing.
Make it easier with the help of WhatRemovals' Moving House Checklist!
One thing you can do is hire a professional moving company to help you transport your belongings. By doing so, you can rest assured that your stuff are in safe hands. Professional movers, after all, are trained and skilled in keeping your items safe and secure!
Compare Removal Companies Quotes
Get quotes quickly and easily from a removals near you.
If you plan on hiring professional movers on your moving day, you should also prepare all your items before movers arrive. This way, you can make sure that all your stuff is arranged for the big day and make sure it remains easy and stress-free!
Not sure on how to prepare your home for the arrival of your professional movers? Lucky for you, we've come up with useful tips on how to prepare for a move!
How to Prepare for Professional Movers
Create a Moving Inventory Checklist
Before the professional packers and movers come to your home, make a detailed inventory of all your household items. This inventory checklist will give you a good idea of all the items you have. Once the movers arrive, you can check out the items being packed and loaded in the truck without missing a beat. When you have an inventory, you can even identify which items are lost or damaged during the shipment process.
Label the Boxes
One of the most common tips for packing and moving is properly labelling your boxes. This is essential, especially when you have fragile items that you will want to ensure the protection of. Labelling can also prevent your movers and packers from mishandling your belongings. Moreover, labelled boxes can also help you make unpacking easier and help you save time if you are looking for a specific item.
Here is a more detailed guide on labeling boxes.
Know What Items Professional Packers and Movers Won't Move
As you move to a new home, moving your belongings won't be as easy as it seems. There are some items deemed unsuitable or dangerous to be carried by a removal company. Your movers and packers are advised to follow guidelines, so you must do extensive preparation for their safety and yours. So, it is best to know all the items that your movers and packers won't move. Some of these items are as follow:
– Items with sentimental value
To know more about the items movers won't move, read here
! Before your moving day, or get rid of these items or pack and transport them separately to avoid any delays.
Buy Packing Supplies
Once you hire full-service movers, the packing and loading of your household items will be done for you! But, if you choose to do the packing yourself, you will need to prepare the packing supplies and get everything packed beforehand.
Some moving companies offer packing materials like moving boxes, bubble wrap sheets, and packing papers. If you want to budget your moving costs, you can buy these things at your local retail stores. You may also buy it at WhatRemovals' Box and Packing Materials Shop.
Also, make sure that the packing materials you will use are of the best quality. No matter how much you want to save money, or how efficient your packing job is, getting good quality materials is a wise investment. After all, this means you won't have to worry about your items getting damaged due to substandard packing materials.
Get Rid Of All The Stuff You Won't Need
Moving to a new house does not always mean that you need to bring everything from your old home. The more belongings you will move, the more expensive your shipment will be. Getting an extra moving truck for your move can cause you to go over budget. So, we recommend that you sort through your belongings and get rid of all the stuff you won't need. This will not only make it easier for you to pack, but also help minimise your moving costs.
Once you have sorted through your belongings and identified which ones you want to give up, you may choose to donate them charity, set up a garage sale, or sell your items online.
Plan For Your Children And Pets
Children and pets can be challenging to deal with during a house move. They can be all over the place, making it difficult for the moving company to do their job. Hence you will want to make sure your children and pets are away from all the hustle on moving day. Letting them stay around may lead to mishaps and injury. So, ask a family member to take care of them while you guide your professional packers and movers.
Once you have settled your children and pets, you can now focus on packing and moving boxes! Planning on having your children and pets with you on moving day? Check out these comprehensive guides on moving with pets and moving with children in tow.
Prepare Your Essentials Box
Before you move to your new place, it is crucial to ready all the essential items with you. These essentials can be food, drinks, extra clothes, blankets and even a first aid kit. It is important for you to have these items accessible at all times. Additionally, make sure to offer your movers and packers snacks and drinks as well.
Give Cash Tips to Your Movers and Packers
This advice is purely optional. You don't have to tip your movers if you don't want to, but if you are pleased with their full service, you can tip them to show your appreciation.
If you have yet to book a removals company for your move, do not forget to check out our list of removals partners in your area!
Compare Removal Companies Quotes
Get quotes quickly and easily from a removals near you.