The Ultimate Student Moving Checklist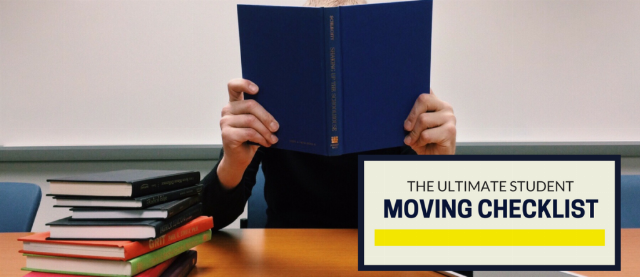 Relocating into a new apartment building at school or student accommodation can be a very hectic time. It's a big change that can be mind-boggling. Combine that with getting off to a good academic start and making new friends, and you're pretty much setting yourself up for a nervous breakdown! So, how do you get ready for the move? Pretty simple. A moving checklist.
Compare Removal Companies Quotes
Get quotes quickly and easily from a removals near you.
The stress of relocating can mold your mind into a pretzel, and cause you to overlook some things. Trying to recall everything you need to get done, from furniture shipping to setting up the Wi-Fi, can be almost unmanageable, which is why it's vital to be proactive. With a complete, printable student moving checklist your move will be simple and stress-free. If you're looking for a more standard checklist, check out our moving home checklist. You can also check out these packing tips for moving to help you get your stuff ready for the move.
Important Documents
The following credentials will be very important for your move to college, particularly during your first few weeks. Make duplicates of all of them and stash them together in a secure file to make sure none of them goes missing.
– Your course acceptance letter
– All official college documents, together with your acceptance letter
– All your Student Finance documents
– National Insurance card
Entertainment/Electrical Items
It really goes without saying that you will want to bring entertainment with you to college, for example your personal computer. You might even want to bring your own television, however you should check with the administration before packing it.
– Computer/laptop and charger
– Hair styling tools and hair dryer
– HDMI cable, Ethernet cable
Clothing
Clothing usually is a no-brainer; you will most probably know what you want to take with you to college. Here is a list of the basic essentials, including a few extras that you might have forgotten about, to make sure you've got everything you need for all occasions.
– Seasonal clothing (sunglasses, gloves, scarves, hats)
– Costume clothing (for themed parties!)
Academic Items
Academic supplies like notepads and books can take up a lot of space and weight in your bags. So, don't freak out, you can always stock up on everything you need when you get to college. Most colleges will have a shop providing all the important stationery items. However, there are some basic essentials you might want to take with you just to get started.
– Planner, diary or journal
Your college will probably send you a 'recommended reading list' before your arrival at college, and purchasing all of these textbooks can seem like the sensible, organized thing to do. But, it's best to wait until you have actually started your course and assessed the situation before you decide which books you really need to buy. As not only do they consume a lot of space and weight in your luggage – they're costly! You'll quickly learn that you can find many of them in the library at no cost, or you could even share or borrow them from your course-mates.
Kitchen Supplies
You have to eat while you're at school, so start by gathering the necessary kitchen supplies so that you can cook and store food that you don't eat. You also need to have something to eat on and eat it with. Consider the following supplies:
– Dish soap and scrub brush
Room Needs
While many college rooms come furnished, it is with the bare necessities, and you will still need some things to make the room usable, especially for studying and other uses. The following are some of the basic items that you won't want to go to college without:
– Mini iron and ironing board
– Bulletin board/dry eras
Toiletries
The first time you get sick, you are going to feel really crappy about not having a bottle of Tylenol, Excedrin or Aspirin. So, get it before you get sick. Don't forget the following:
– Razors, clippers, tweezers
Miscellaneous
These items may slip your mind when boxing up your personal effects, but you'll be surprised at how handy some of them can be in your time of need.
Essential non-essentials
The following items aren't precisely essentials, but we can almost guarantee that you'll need to have them in your new room, to give it that touch of home.
– Pictures of friends and family
– Fake plants for decoration
– Cushions/Throw blankets for decoration
– Full-length mirror/wall mirror
Other stuff
There are also some things that you might not think about, that would be good to take to college with you.
– Household products (Ziploc bags, trash bags, light bulbs)
Let's face it- When you go off to college, you are moving out of your house, and thus you need some basic personal effects to function. So, if you fear bringing your stuff with you over the summer break or you simply don't have enough room in your apartment, finding a self-storage unit near you may benefit you. You may check out our student storage guide for more helpful tips.
Moreover, if you're looking for ways to transport the stuff you'll be taking with you, you may want to consider hiring a removals company or a man with a van to help you out! Unsure on how big of a van you'll be needing? Check out this van size guide! Meanwhile, if you need some tips on hiring a man with a van, here's a guide you may find useful!
Compare Removal Companies Quotes
Get quotes quickly and easily from a removals near you.