Complete Buying Guide For Storage Boxes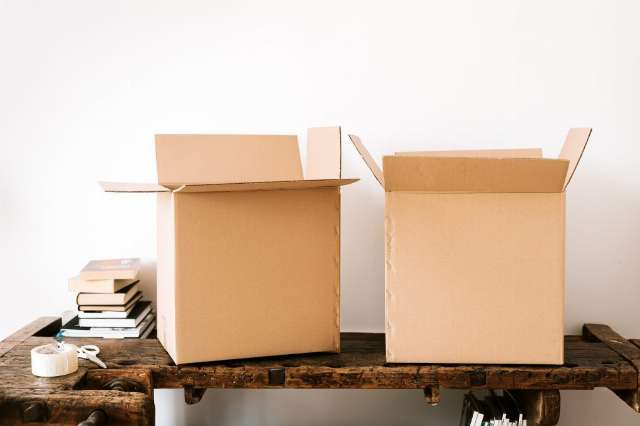 Houses in the UK tend to be very small. An article by The Guardian published an article discussing why houses in Britain are small. Storage space then becomes a problem. A small broom closet and a couple of cupboards in the kitchen does not make for an efficient system. Instead, you have to invest in additional storage boxes.
These storage boxes can help you organise everything inside your home or flat. When everything has its own place, you should have no trouble finding what you need. Besides being a helpful presence in your daily life, it also makes for a good packing buddy. When you are moving to a new house or neighbourhood, you can easily transport your belongings without having to pack.
Whether you are organising your current home or relocating to a new place – these boxes are a must-have. Here is WhatRemovals' storage boxes buying guide:
Different Types of Storage Boxes
There are several types of storage boxes available. Each one has its own pros and cons. You need to know the qualities of each one before you buy your storage container. Here are some of the top options available in the market:
Cardboard Boxes

Cardboard boxes are a common organisational tool in homes across the UK. You can store old clothes, books, and other knick-knacks. Another creative way to use them is with small dividers. Mari Kondo, an organisation expert, takes shoe box lids and chocolate boxes to separate items in your junk drawers. There are plenty of ways you can repurpose cardboard boxes!
While they are multifunctional, they have their limits. They aren't ideal for long-term storage. Over time they slowly lose their shape, and parts of the box wear away. You might keep soft items like clothes and stuff toys, but you cannot use recycled boxes for fragile pieces. When it comes to valuable items, it is best to purchase new packing boxes instead. You can get a better size selection, and they are more durable. They will last longer than the ones you repurposed from online deliveries and old sales.
The Big Deal About Bicycle Boxes
If you're a serious trekker and biker, your bicycle would be one of the most valuable things that you own. Though significantly cheaper than a car, shipping your bicycle should be done with utmost care and caution. Protect your bicycle and if you're going to put your bicycle in the moving van, protect your items from your bicycle.
Use a bicycle box to make sure that none of your items or your bicycle gets scratched when things get jostled.
Bike boxes for shipping are a specially-designed box for moving your bicycle in transit through air or through land. They are made of corrugated cardboard where you can pack your bicycle snugly and keep it safe as you move.
Plastic Storage Boxes
Plastic storage is a step-up from the cardboard option. Besides being more durable, it comes with additional features like snap-on locks, handles, and wheels. Plastic boxes are also waterproof. Plastic storage containers were created with long-term organisation in mind. Whether it is for long-term storage or short relocation trips – they can flexibly accommodate your needs. The downside? They aren't as flexible, so you need to figure out how to fit everything inside.
Such plastic boxes come in different sizes. From large plastic storage boxes to ones as small as they can get, you'll find that you can put everything from thick winter clothes and kids toys to small accessories and personal electronic items.
Wooden Crates

There are plenty of people who throw away wooden crates and old pallets. If you manage to get your hands on them, they can be an excellent storage solution. Wooden crates can hold just about anything from your old clothes and books to kitchenware and utensils. The slats might not make them the most water-resistant or weather-resistant option, but they allow air to circulate. With decent airflow, you don't have to worry about mould, mildew, or musty smells. The NHS recently published an article stating that damp and mould negatively affects your health.
Basket Storage Boxes
Basket storage boxes come in a wide range of sizes and shapes. You can find large ones that can hold duvets and pillows or small ones that hold crayons and markers. Some basket storage boxes have a lid, while others have none. There are just so many types!
Besides being a great source of additional storage, basket storage boxes aren't too shabby either. They can blend well with your current design without looking out of place. You can tuck the larger ones under the bed, benches, chairs, and tables while the smaller ones can stack on top of each other on the shelves. In both scenarios, the boxes can be the perfect addition to the overall feel and decor.
Fabric Storage Boxes
Fabric storage boxes are very similar to the basket ones. They offer a wide variety when it comes to size, design, and material. However, that's where the similarities end. Fabric storage boxes are easy to clean and foldable. Depending on the type of fabric, they can be water-resistant as well. When they are not in use, you can tuck them away without taking too much space.
It is suitable for small flats since it only takes up space when used and isn't very bulky. It is also great for homes with young children. You can toss it into the washer anytime a juice box is spilt, or there is smeared chocolate and jam.
Garden Storage Boxes/ Outdoor Storage Bins
Garden storage boxes are great if you have an outdoor space. It is a heavy-duty, weather-resistant container that holds garden tools, DIY equipment, off-season items, and hazardous materials you want to keep out of reach. There is also a latch so you can secure your items. This outdoor storage provides easy access to your tools and materials when you are gardening or maintaining your car.
Most homeowners consider it a great alternative for an outdoor shed. Instead of building a separate storage unit, you can buy it ready-made. It comes in a wide range of sizes, so you can take your pick.
The types listed here cover most of the storage boxes in the market, but it is not everything. There are other niche options that store specific items like papers, photographs, clothes, etc.
What Is The Best Storage Box?

When it comes to buying storage boxes, you need to consider the following points:
Purpose
Before you purchase anything, think about its role in your home. Are you storing clothes? The basket or fabric storage box can be an excellent option. Or are you going to move to a new house? A cardboard box or a plastic container is the way to go. If you need different types of storage – you can mix and match or look for multi-purpose options. By identifying what you need, you can plan your shopping list and buy the right type.
Size
Take stock of what you have so you can figure out the capacity of your storage box. Besides counting the pieces, think about its bulkiness and shape. Between a winter coat and 10 summer cardigans – you know which one will take up more space. Most storage boxes list their dimension, but you can also bring a measuring tape and do the math yourself.
Material
The material can dictate whether you are replacing your storage box in 10 years or not. Some storage boxes might look nice at first, but dust and dirt can ruin it over time. Not all storage boxes are washable, so be sure to get the right material for the job.
Steer clear of "trendy" fabrics like suede or faux fur. Instead look for plastic, polyblends, cotton, linen or wooden storage boxes. There are plenty of options that can positively contribute to your overall interior design without being difficult to clean.
Durability
Last but not least, make sure your containers can handle the items you want to store. A fabric storage box is perfect for clothes, but it might tear with anything heavier. If you are going to keep fragile and valuable pieces, you need to find durable boxes. Look for something that can carry the weight and offer a bit of protection.
Where Do You Find Storage Boxes?

You can find storage boxes in various places like the hardware store, furniture store, or home goods section of the department store. While they are an organisational tool, places rarely stock up on all types. Instead, they have options that better suit their other product selection.
For example, you can find an outdoor storage box in a hardware store and a basket storage box in the home goods section, but not vice versa. You can check out their online websites to see what they have on hand.
These boxes are the perfect storage solution for small flats and houses in the UK. Not only will you increase your storage space, but you can also use them to organise your self storage unit. While space is in short supply, you should have no problem keeping all of your items. Start organising your home today!
If you are looking for reliable boxes, here is a Guide on Where You Can Get Moving Boxes. WhatRemovals also has a wide selection of packing boxes for your needs. We offer removals services in London, Brighton, Liverpool, Birmingham, Manchester, and various cities across the UK. For list of self storage facilities, you may check out WhatStorage.
Compare Removal Companies Quotes
Get quotes quickly and easily from a removals near you.