A Quick Guide On Moving Companies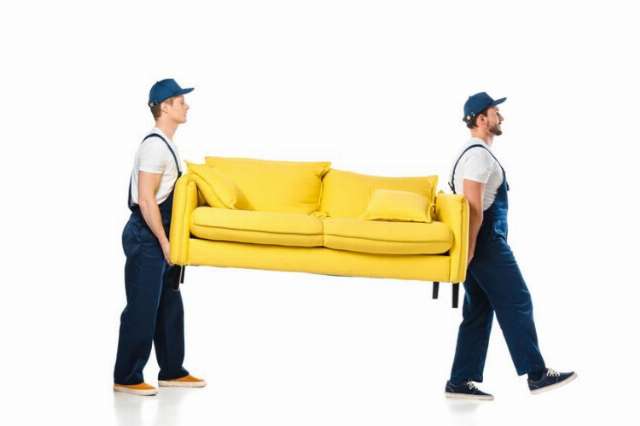 Are you moving house and thinking about hiring a moving company to help you move into your brand new home? If so, you've come to the right place! This guide aims to tell you everything you need to know about hiring a house removals company, including what you can expect one to do, its benefits, some moving tips, and many more!
What Is A Moving Company?
A moving company (also known as a removal company or removal van service) helps households and businesses move their belongings or goods from one place to another. Most removal companies offer all-inclusive moving services which include the handling of your items throughout the moving process. These include:
– Packing
– Loading
– Transportation/Moving
– Unloading
– Unpacking
– Arrangement
– Removal Storage
Not to be confused with a man and van, a removal company often operates with a full moving crew and provides more comprehensive moving services. A man and van company does small-scale moves, usually limited to the contents of a one- to two-bedroom house. However, both types of companies do offer removal services for both nearby and long distance moves. In fact, you will find that most man and van companies even provide the same moving services a removal company typically would.
How Are Moving Companies Beneficial For Me?
Still on the fence about using a house removal service or a Man and Van? Here are some reasons that can help you realise just how helpful availing removal services from a moving company would be:
Hiring A Moving Service Will Help You Save Time
If you're on a strict timeline, hiring a professional mover to pack up your stuff would be the smartest thing to do.
You won't have to spend a long day of packing and hauling moving boxes and heavy furniture!
Because they pack and transport stuff for a living, you can trust that your movershou will know what they are doing. Hence, they will pack and prepare everything you own in a more efficient and timely manner. Our partner house removals companies in London, Bristol, Liverpool, and more cities across the UK offer various moving services you can choose from.
They Have The Necessary Training and Equipment To Keep Your Items Safe
A professional mover will have the skill, knowledge, and proper equipment to pack up your stuff quickly and efficiently. More than just packing and moving your things in a timely manner, a removal company will also make sure your belongings are safely packed and delivered to its destination.
You won't have to worry about damaging your car with a bulky piece of furniture. Or worse, improperly packing up your valuable art and antiques, doing irreparable damage to your properties! If you are hiring your house removal company to provide you with packing services, you will also find that they have high quality packing materials that will definitely ensure the safekeeping of your belongings.
On top of this, most moving companies also offer transit insurance coverage for the items that they will be packing and transporting. So, if anything you own does get damaged as the moving crew packs up and transports your stuff, you will be fairly compensated.
Meanwhile, for any valuable items, it would be best to pack and transport them yourself. While such movers are generally reliable and trustworthy, knowing your valuables are safe with you will give you extra peace of mind.
You'll Be Saving A Lot Of Money
You may be thinking, "How will I be saving money when I'm paying someone else to do something I'm perfectly capable of moving?"
Hiring a moving company does seem expensive when you look at the upfront fees alone. However, they may help you save more in the long run!
With professional movers, you wouldn't have to worry about renting a moving van and refuelling it, nor would you have to purchase packing boxes and other materials. Instead, your removal company will already have all these items on-hand, and will, more often than not, have these included in their professional fees. You may checking moving quotes in Birmingham, Manchester, or anywhere you plan to relocate to help you manage your budget.
Compare Removal Companies Quotes
Get quotes quickly and easily from a removals near you.
If you are moving house without the help of professionals, any broken or damaged items would mean your stuff will not be replaced, and your money by extension will be lost for good. Yes, you may purchase transit insurance elsewhere, but by doing that, you will only be redirecting the amount you'd be paying a removal company!
Lastly, and most importantly, as I've already mentioned, an experienced mover can pack everything you own more efficiently. That means they will be able to maximise their packing materials (and use less of it for more stuff) in a way that no non-professional mover can.
You Can Avoid Moving Related Injuries
Moving bulk and heavy objects is not as easy as it seems. In fact, moving these kinds of objects without the proper technique or equipment may result in a wide variety of injuries including back pain, muscle strain, inguinal hernia, and even small injuries to the hands and feet.
That means any amount you save by moving your belongings yourself, you will have to use for physiotherapy and medication. These injuries will leave you incapacitated for quite some time, which means you'll also be sacrificing a few days in the office. To save yourself a visit from the emergency room or months of physiotherapy it will be ideal just to get professionals to handle the heavy lifting.
Helps You Stay Cool and Calm On Moving Day
All house moves are stressful and nerve-wracking. That one is already a fact. However, by hiring a removal company, you can ease some of the burdens of moving off yourself. With a house removal company on the job, you will be able to:
– Relax on moving day, knowing your belongings are in good hands.
– Stay on task and schedule.
– Pass on all the dirty and hard work to someone who knows what they are doing.
– Make the day stress free and avoid the anxiety that comes with driving one of those huge removal vans yourself.
– Focus on helping your pets adjust to the move.
How Much Do Moving Companies Cost?
A moving company would cost an approximate amount of £400 to £1400, depending on the following factors:
Van Size
Most reliable removal companies offer different van sizes to accommodate the amount of stuff you have. Naturally, the larger the van is the higher its cost. You will, however, have to take note that van size is not the only thing to take into consideration. That means you simply cannot choose a smaller van size to bring down the cost.
Length Of The Job
Many removal companies usually use hourly, half-day, or full-day rates to determine the cost of the job. With that being said, the time spent on the job will directly affect the cost of your removals job. This is the very reason as to why you cannot simply choose to use a smaller van. Getting a smaller van when you have too many things would mean having to go back and forth between Point A and Point B, thus doubling, or even tripling, the time spent on the job.
Distance Of The Move
The distance from your old place to your new home will directly affect the cost of hiring a removals company. Naturally, long-distance removals jobs will be more expensive than local moves and house removals jobs with shorter distances. So, if you are moving to a faraway location, be prepared to shell out a bit more money.
Be prepared for some additional charges if you'll be moving to a location that's hard to get to. For instance, if you'll moving to a congested part of London, your removal company might ask for a few extra pounds to cover the extra gas needed to navigate around the tight streets of London.
Size and Complexity Of The Move
The layout of your home and your property or building will also influence the cost of your moving company. Additionally, the amount, size, and type of items that need to be moved will also come into play. To put things simply, the harder it is to complete your house move, the more expensive it will be.
Additional Removal Services Acquired
If you are springing for an extra helper, additional transit insurance, or taking a route that will require you to pay for toll and parking, you will have to pay the additional costs.
What Can I Do To Reduce The Removal Costs?
Although a moving company can help make relocating stress-free, you will find that they can sometimes be out of your budget. Here are some ways you can save up on your moving costs:
Declutter
Sell or get rid of the things you no longer need or want to minimise the number of items you'll be taking with you.
Start packing what you can
Leave only the speciality items for your movers. This will speed up the moving process and therefore minimise the amount of time which will be charged to you.
Use free boxes
Consider scouring for free boxes which you may use for the house move. Packing boxes can cost you a lot. You'd be surprised at how much you can save by spending a bit of effort looking for free boxes.
Find alternative packing materials and wrapping paper
Pack your stuff in bags, wrap valuables in linen or towels, etc. Be creative.
Ask for help
Get help from your family and friends to speed up the move, but make sure they do not get in the way of the professional movers.
Schedule your move strategically
Move on weekdays, or months that are off-season so you won't have to compete with other people.
Use comparison sites
WhatRemovals helps online users to find the best removal company deals so you can get low prices for your house move
Ask for a discount!
Try asking for a discount! Moving is already expensive. It wouldn't hurt to ask! After all, even a 5% discount would go a long way!
Can I Use A Removal Company For International House Removals Jobs?
Yes, you may! Some house removals companies offer international removals services for those moving abroad. Do note, though, that relocating abroad (and taking your stuff with you) may cost a lot of money.
To save up on the moving costs, only choose what you need to take with you and keep everything else in long-term storage. Get some tips on keeping your stuff in long-term storage here.
Also, remember that international moves are very tricky, as compared to local moving. There will be a lot of requirements for a moving truck to cross borders, and you may have to shoulder most of these expenses.
How Do I Pick The Best Moving Company?
To pick the professional mover that will best suit your needs, here are some things you should be on the lookout for:
Transparent Costs
When a service quote is provided to you, make sure to ask for a breakdown of the quote and check what removal services are included in the price. A relatively cheap quotation does not always mean you are getting the best deal possible.
Read over the contract thoroughly to make sure you are getting the best out of your money's worth. Make sure you are not getting charged for anything you don't need, and that there aren't any surprise fees at the end of the day.
Fair Insurance Policy
Find out how much your stuff is ensured for, for how long they will be covered, and if you will need to purchase extra transit insurance. Some removal companies have a ceiling amount for their removal insurance coverage, so your high-value items may not be covered.
Also, avoid packing fragile items, as anything you pack yourself may be void of the removal company's insurance coverage. You would also want to find out what the company's policies are regarding delays that are of their doing.
Reviews and Feedback From Former Clients
It would be beneficial for you to find out what other people, and more specifically former clients, are saying about your prospect removal company. You will usually find their feedback or review on the company's official website and third-party reviews website. Check for comments on the company's service, pricing, and customer satisfaction.
You may also ask your house removals firm if they can provide you with customer recommendations from some of their former clients. If you know people who have recently moved, you may ask them for their moving service's name and get their honest feedback.
Read more about choosing a removals company here.
If you are moving to London, you will want to make sure that you hire a removal company. This is because they will be able to help you move all of your belongings safely and securely. They can also provide you with storage options if you need them.
Moreover, a removal company can also help you pack up your belongings before you move. This way, you will not have to worry about doing it yourself. Stress-free and easy!
So, if you are planning on moving to London, be sure to hire a reputable removal company. This way, you can rest assured that your belongings will be in good hands.
Final Thoughts
As you can see, hiring a house removals service is fairly advantageous. They will quickly, safely, and efficiently perform all the hard moving work for your house move, all at an affordable cost!
WhatRemovals partners only with companies that can provide only the best moving services UK can offer! Fill out our risk-free enquiry (No commitment, no charge!) form today to get recommendations on the best and most reliable removals companies in your area!
Compare Removal Companies Quotes
Get quotes quickly and easily from a removals near you.