Removals vs Man and Van: Which One Do I Need?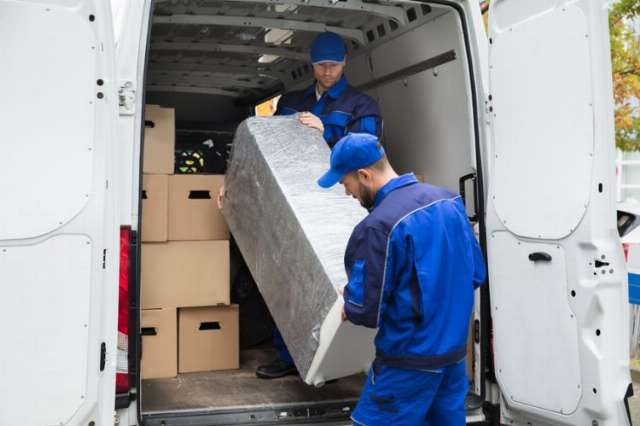 When you're planning on moving house, it is almost always second nature for you to consider hiring outside help. In the UK, the most common options you may choose from are a professional removal company or a man and van service.
However, choosing between the two is not as easy as it seems, especially when you're not entirely sure as to how these two services differ. To help you get through this confusion, we've come up with a guide that discusses the differences and the similarities of the two. Furthermore, this article will also be discussing the services you can avail from each, when it would be best to hire each one, and how much each service will cost.
What Is A Man and Van?
True to its name, a man and van is essentially composed of one man (sometimes two or three men) and his van. A man and van service provides point-to-point transportation services for a low cost. Such services are mostly used for the following:
1. Small house removals
2. Small office relocations
3. Student removals
4. Large item delivery services
5. Parcel deliveries
6. Furniture deliveries
7. Single item collection services
8. Self-storage move-ins
9. Waste collection and disposal
10. Piano removals

What About A Removals Company?
On the other hand, a removals company provides relocation services to those who are moving houses or moving offices. Aside from the transportation of your belongings, especially bulky furniture items and large appliances, you may also ask a removals company to provide you with services that can make moving easy and hassle-free. Here are some of the other services that a removals company typically offers;
– Packing supplies acquisition
– Dismantling and reassembling furniture
– Packing and unpacking of your belongings
– Furniture arrangement
– Removal storage
Compare Removal Companies Quotes
Get quotes quickly and easily from a removals near you.
You may even hire a removal company to provide you with an all-inclusive moving service, which means they will handle all the hard work and heavy lifting required for your move. This is the best option possible, especially when you are busy with school, work, or the other administrative aspects of your move. Here is a quick Guide on Moving Company Services.
How Do I Determine If I Need A Professional Removal Company or a Man and Van Service?
If you are unsure about whether you should hire a removal company or a man and van for your big move, ask yourself the following questions. Doing so should help you at least get a better idea on which moving service will better suit your needs.
How Far Away Is Your New Place?
If you are planning to move locally or somewhere that is quite near, then a man and van may be able to help you out with the transportation of your belongings. However, if you are moving somewhere far away, or even to a different country, then you may need to consider a removal company for the job.  You may read about International Removals here.
What Is The Volume of The Items You Wish To Take With You?
If you don't have many belongings and are only taking a few furniture pieces or several boxes that can fit in a small moving van, then you may get away with hiring a man and van for the job. However, if you have too many items that will require you to hire someone with a regular Luton lorry, then you may need to hire a removal company for the job. To find out what size van you need, you may check out WhatStorage's Van Size Guide.
Alternatively, even if you have a high volume of items to be moved, you may also opt to hire a man and van and have them make multiple trips to get all your things transported to your new place. Do take note, though, that doing so may be a bit costly.
Are There Any Items That Require Special Care and Attention?
Some man and van services can offer packing services nowadays. However, it would still be best to hire a professional removal company to handle the specialised packing and transportation of fragile items such as antiques, fine art, and other valuable pieces.
Do You Have Any Large Items That Need To Be Moved?
If you have large or heavy items that will need to be moved by a larger crew of people, then you may want to consider hiring a removals company. Most man with a van service providers will only have a maximum of three people on the job, which means hiring them won't be ideal if you will require a lot of manpower.
Are You Willing To Do Some Of The Dirty Work?
If you are willing to get your hands dirty with the packing and heavy lifting, then there shouldn't be a problem with you hiring a man with a van. However, if you'd much rather have someone handle the physical relocation of your stuff, then a removal company may be the way to go.
How Much Are You Willing To Spend?
With the number of removal services that removal companies can offer, it is not a surprise that they can be more costly than a man with a van.
That means if you are moving with little money or a limited budget, then you are better off hiring a man and van service. It also means that if you are willing to spend a bit more money for the extra help, then a removal company may be something you would want to consider.
Here are some guides on how Man and Van and Removals costs are computed.
How Soon Do You Need To Move?
The time frame of your move will definitely play a factor in choosing between a removal service or a man with a van. If you have a few weeks to get everything planned out and ready, then a removals company could be an option for you.
If you are planning a last-minute move, then it would be a bit difficult for you to hire a removals company for the move. A man and van, however, will be more amenable to such, as their schedules are more flexible.
Book Your Movers Now!
Have you gotten a better idea of what kind of movers you will need for the job? If so, do not forget to have multiple companies in the running to make sure you get the best deals possible! You may use WhatStorage to check out both the local man and van service providers and removals companies in your area today!
Compare Removal Companies Quotes
Get quotes quickly and easily from a removals near you.