Common Moving House Mistakes You Should Avoid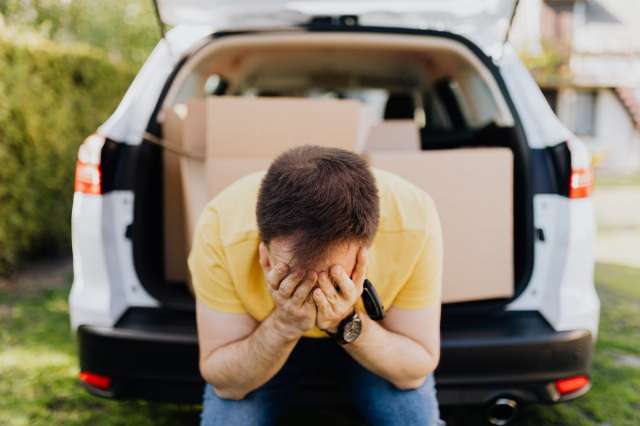 Anyone would want their house move to run as smoothly as possible. However, it just doesn't happen every time. No matter how careful you are, you can't expect your moving day to be perfect. However, you can lessen the stress by evading huge mistakes that can result in total chaos.
In this article, WhatRemovals lists down the most common moving mistakes you should avoid, from wrong labels to late packing schedules.
Not Preparing In Advance
A lot of people, particularly first-time movers, underestimate the moving process. You might think it is as simple as packing and driving to your new home. Well, the truth is it will take a LOT of time. That is why prior planning is essential.
Whether it's searching for removal quotes or purchasing packing materials, preparations should be weeks or months before the move. We recommend that you start planning once you finalize your new address. To ease the planning process, you can check out our Moving House Checklist.
Hiring the First Removal Company You Find
Aside from looking for moving companies early, you have to make sure that you go over all the quotes you'll get from each of your prospective removals company. It is a common mistake to hire the first removals company you find instead of comparing all the deals first.
Many pose as legitimate moving companies and offer customers a very cheap rate. To avoid fraud and scams, take the time to read reviews of these companies. It's also best to check their affiliations; members of the British Association of Removers are sure to be reliable and high-quality. What is the British Association of Removers? Find out here!
Suppose you are looking to hire BAR-accredited removal companies. In that case, you may check our list of removals companies here on WhatRemovals. The same goes for man and van companies. After all, there are too many man and van companies in the market, and you never know just when you're dealing with fake movers.
Compare Removal Companies Quotes
Get quotes quickly and easily from a removals near you.
Packing Last Minute

Packing is definitely not a last-minute task. In fact, this could be one of the most tiring parts of the move. It will take you at least a month to do this effectively.
First and foremost, it is a huge mistake to pack your items randomly. You should sort your items by category–by room, for example. Things in the dining room shouldn't be mixed with those in the living room. Fragile items should also be packed separately.
Remember: if you're not a pro, manual handling can lead to severe injuries.
If you have enough budget, it's best to let the moving company pack your stuff for you. They have the right materials and organized packing strategies, so you can rest assured that your valuables are safe.
Taking Insurance for Granted
No matter how experienced your movers are, there is still that tiny chance that an accident can happen. Better check the insurance policies that your removals company is offering. If you have a home insurance provider, ask them about the coverage and if it includes household items on transit. Here's WhatRemovals' Guide on Removals Insurance.
Avoiding Pre-Move Surveys
Some homeowners are uncomfortable with in-person pre-move surveys, so they opt for self-surveys or virtual ones. These are for checking all items to move, narrow lanes, low bridges, traffic flow, and other factors that can affect your move. Whichever you pick between these three, never skip this part because this can help your mover develop a custom plan and an accurate quotation.
Disorganized Labeling

Putting on labels is an essential step to organize your items. Whether you use a colour-coding or a number system, labels can help you and the movers easily recognize categories. Boxes will surely be stacked inside the vehicle, so we recommend that you put packing labels on every side. This way, you can quickly unload and load them at your new house.
For more tips, check out our labeling guide.
Forgetting your Open First Box
It's essential to pack your essentials separately. These are the stuff that you will need on your first day at your new house. Because you can't possibly unpack everything, it's better to keep a set of clothes and your toiletries in another box.
Not Notifying People About Your Address Change

From your family, friends, banks to your healthcare providers, you'll have to notify important people and companies about your address change. Otherwise, bills, documents, and sensitive information may go into the wrong hands. Check our Change of Address Checklist for more tips!
Failing to Have House Utilities Connected
Imagine entering your new house on moving day and finding out that you don't have running water nor electricity. This is one of the most common moving mistakes that you'd want to steer clear of. Make sure to get in touch with the essential service providers. Internet access and cable TV can be arranged at a later date since these are less urgent.
Refusing To Ask About Your New Neighbourhood
It is crucial for you to take note of how important it is for you to be able to ask around. All it takes is for you to ask ONE person. From there, you'll essentially have a network of people who know people that can make your life easier in different aspects. It will be like a chain reaction of you getting recommendations after recommendations!
Your hairdresser, for example, can recommend a good handyman who can recommend a chiropractor who can recommend a mechanic who can recommend a good plumber. Soon, this chain will have you feeling just like any other local in your new town or city!
A Good Hairdresser
Most people would go around the neighbourhood, visiting different salons or barbershops, or hair salons until they find the right fit for them. However, it would also be quite efficient to go out and find the best one for you from the get-go.
One thing you can do is check out the hairstyle of the people you are interacting with. From there, you can easily single out the ones that look promising to you. Once you've distinguished which ones you like, you may ask your neighbour, friend, or coworker about where they get their hair done.
If, however, you find that this tactic could be a hit or a miss, you may sample a group of people, ask them for their recommendations, and visit the most recommended names on the list.
Lawn Maintenance Services
You will want to find out who performs lawn maintenance on the other houses in your community. It would be best to ask this of a homeowner with a visible lawn, as they will for sure know which companies are good and which ones you should avoid.
Alternatively, the next time you see a sweaty crew trimming somebody else's lawn, go over and ask for a quote. That perfect summer backyard isn't going to build itself!
Healthcare Centres
When moving to a new town, there are three vital services you should always find: a doctor, a dentist, and a good hospital nearby, in case you or your family members need it. If you are elderly, you may also need to look for senior home care services nearby. You can ask your local Facebook friends or colleagues for suggestions. This is also the best time to ensure that all of these services are covered by your health care plan.
A Reliable Auto Mechanic
Finding a good auto mechanic is difficult. After all, you will want someone whom you know won't try to rip you off. Hence, it would be good to ask people for referrals on the auto mechanic they have been going to for years. However, even with referrals, it might also be a good idea to check reviews on sites like Yelp.
Childcare Services
When it comes to childcare, fellow parents are your best friends. Ask your hairdresser, coworkers, and fellow parents at the playground to get the scoop on the best babysitters or nursery schools in town. While you're at it, it would also be the best time to ask about the best places to visit with kids, as well as establishments that cater to their needs (i.e., local kids' clothing stores, toy stores, arcades, etc.)
Pet Sitters
As you may have noticed, chatting with the people around you is the best way to find good service providers. This also applies to your pets.
Chat with your fellow pet owners to find reliable dog walkers and dog-sitters whom you can rely on to take care of your pets. Other good places to search for referrals are veterinarians, dog parks, and pet supply stores.
Local Tradesmen
If you're a very busy person and don't have the time to clean the gutters or install new lighting, consider asking your neighbors for reputable contractors, handyman, drainage cleaning experts, house painter, electricians, and even gas engineers to help you out!
While you're at it, it would be a good idea to find the nearest post office to ensure that your mail and other parcels are sent to your new address.
House Cleaning Services
When you move in, there will be a lot of mess. Packing supplies, outside dirt from high foot traffic, and the accumulated dust buildup are just some of the things you'll encounter. Start your new life the right way by hiring professional house cleaning services. If you're a busy fellow, you can hire a team regularly so you won't have to worry about the mess.
Friends Who Share Your Interests
While you do not need to ask other people where exactly where you can find like-minded people, it is quite important that you do find them.
So, do not be afraid to reach out to the people in your neighbourhood or even some of your colleagues. You may also take advantage of social media for this purpose. Whether you have progressive or conservative views, Facebook is a great tool to find locals that share the same interests as you. If you don't find any groups of people with the same passions, you can even start one on your own!
More Moving Tips
On the big day, help your movers by keeping paths and hallways clear of obstacles. If you have kids, make sure to keep an eye on them as they tend to run around. If you're busy, ask someone trustworthy to look after them. Here are more tips you may check out if you are Moving With Children.
Don't forget to dress comfortably during the move as you will be on your feet the whole day.
Lastly, inform your neighbours about your move. You wouldn't want them to be surprised to see vehicles and movers going about the vicinity.
Preparing For A Move Soon?
Find local house removal companies near you through WhatRemovals. We've partnered up with some of the best moving services to make your relocation much easier and to help you transport your belongings from one point to another, anywhere within the UK!
Compare Removal Companies Quotes
Get quotes quickly and easily from a removals near you.