Common Moving House Mistakes You Should Avoid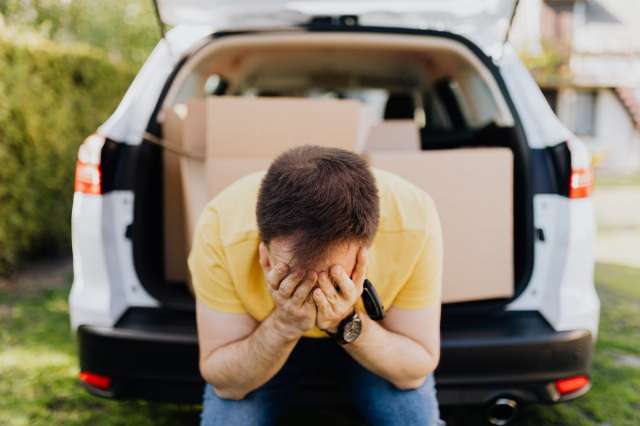 Anyone would want their house move to run as smoothly as possible. However, it just doesn't happen every time. No matter how careful you are, you can't expect your moving day to be perfect. However, you can lessen the stress by evading huge mistakes that can result in total chaos.
In this article, WhatRemovals lists down the most common moving mistakes you should avoid, from wrong labels to late packing schedules.
Not Preparing In Advance
A lot of people, particularly first-time movers, underestimate the moving process. You might think it is as simple as packing and driving to your new home. Well, the truth is it will take a LOT of time. That is why prior planning is essential.
Whether it's searching for removal quotes or purchasing packing materials, preparations should be weeks or months before the move. We recommend that you start planning once you finalize your new address. To ease the planning process, you can check out our Moving House Checklist.
Hiring the First Removal Company You Find
Aside from looking for moving companies early, you have to make sure that you go over all the quotes you'll get from each of your prospective removals company. It is a common mistake to hire the first removals company you find instead of comparing all the deals first.
Many pose as legitimate moving companies and offer customers a very cheap rate. To avoid fraud and scams, take the time to read reviews of these companies. It's also best to check their affiliations; members of the British Association of Removers are sure to be reliable and high-quality. What is the British Association of Removers? Find out here!
Suppose you are looking to hire BAR-accredited removal companies. In that case, you may check our list of removals companies here on WhatRemovals.
Compare Removal Companies Quotes
Get quotes quickly and easily from a removals near you.
Packing Last Minute

Packing is definitely not a last-minute task. In fact, this could be one of the most tiring parts of the move. It will take you at least a month to do this effectively.
First and foremost, it is a huge mistake to pack your items randomly. You should sort your items by category–by room, for example. Things in the dining room shouldn't be mixed with those in the living room. Fragile items should also be packed separately.
Remember: if you're not a pro, manual handling can lead to severe injuries.
If you have enough budget, it's best to let the moving company pack your stuff for you. They have the right materials and organized packing strategies, so you can rest assured that your valuables are safe.
Taking Insurance for Granted
No matter how experienced your movers are, there is still that tiny chance that an accident can happen. Better check the insurance policies that your removals company is offering. If you have a home insurance provider, ask them about the coverage and if it includes household items on transit. Here's WhatRemovals' Guide on Removals Insurance.
Avoiding Pre-Move Surveys
Some homeowners are uncomfortable with in-person pre-move surveys, so they opt for self-surveys or virtual ones. These are for checking all items to move, narrow lanes, low bridges, traffic flow, and other factors that can affect your move. Whichever you pick between these three, never skip this part because this can help your mover develop a custom plan and an accurate quotation.
Disorganized Labeling

Putting on labels is an essential step to organize your items. Whether you use a colour-coding or a number system, labels can help you and the movers easily recognize categories. Boxes will surely be stacked inside the vehicle, so we recommend that you put packing labels on every side. This way, you can quickly unload and load them at your new house.
For more tips, check out our labeling guide.
Forgetting your Open First Box
It's essential to pack your essentials separately. These are the stuff that you will need on your first day at your new house. Because you can't possibly unpack everything, it's better to keep a set of clothes and your toiletries in another box.
Not Notifying People About Your Address Change

From your family, friends, banks to your healthcare providers, you'll have to notify important people and companies about your address change. Otherwise, bills, documents, and sensitive information may go into the wrong hands. Check our Change of Address Checklist for more tips!
Failing to Have House Utilities Connected
Imagine entering your new house on moving day and finding out that you don't have running water nor electricity. This is one of the most common moving mistakes that you'd want to steer clear of. Make sure to get in touch with the essential service providers. Internet access and cable TV can be arranged at a later date since these are less urgent.
More Moving Tips
On the big day, help your movers by keeping paths and hallways clear of obstacles. If you have kids, make sure to keep an eye on them as they tend to run around. If you're busy, ask someone trustworthy to look after them. Here are more tips you may check out if you are Moving With Children.
Don't forget to dress comfortably during the move as you will be on your feet the whole day.
Lastly, inform your neighbours about your move. You wouldn't want them to be surprised to see vehicles and movers going about the vicinity.
Preparing For A Move Soon?
Find local house removal companies near you through WhatRemovals. We've partnered up with some of the best moving services to make your relocation much easier and to help you transport your belongings from one point to another, anywhere within the UK!
Compare Removal Companies Quotes
Get quotes quickly and easily from a removals near you.