The Benefits of Hiring Office Removals Services When Moving Your Business to London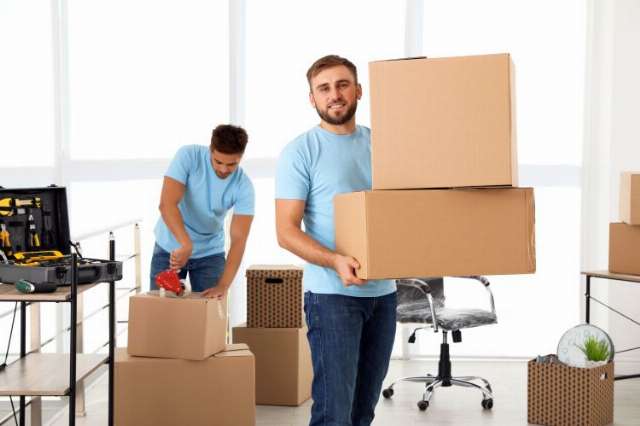 London is a central hub for many businesses and organisations. Many of the world's most prestigious organisations and multinational companies are based in London. Therefore, it is no surprise that many companies of various sizes are also constantly looking for a place to relocate their offices into the city, whether it is just one department or the whole of their company.
When it comes to relocating business, there are many different issues involved, and if you don't have any experience in this area, it can quickly become very overwhelming. To make things easier, though, you may want to consider hiring a London removals company for your office move, as they can offer you some really valuable help.
In this blog post, you will learn about the benefits that come with hiring office removal services in London and find out just exactly how you can find the best office removals service provider for you.
Here are five reasons why you should hire an expert in office removal or relocation services for your big office relocation to London.
Your Office Furniture and Equipment Will Be Safe
If you are moving your office to a new location, one of the primary concerns that many people have is their office furniture and equipment safety. After all, these items are often fragile, expensive, and difficult to replace. This is especially true for large office equipment and bulky office furniture like conference desks, filing cabinets, and more.
When you hire an office relocation expert for this process, they will know how to pack all of your belongings properly so as not to damage them during transport. The expert movers who provide office removal services to businesses in London also have the training and expertise necessary to deal with delicate items like artwork, electrical office equipment, and computers without risking damage or breakage.
Moreover, many office removals London companies offer an all-inclusive package that includes packing and unpacking services for your valuable office equipment and furniture, thus minimising the risk of anything getting damaged before and after transport. Read more about moving company services here.
Your Business Can Save On Expenses
You will also find that hiring a company that specialises in office removals London means you can save money because they will know how to pack your items correctly and efficiently. That means less money spent on packing materials and other office removal supplies and equipment!
This way, the team of experts packing up your belongings won't need to take as much time preparing them for transport, which ultimately saves on expenses.
You will also find that with an office removals company helping you out with your office move, you won't have to worry about spending too much money repairing or replacing damaged office equipment and office furniture. After all, they will have the insurance to see that you and your company's belongings are all taken care of.
Here are Some Things You Can Do When Your Moving Company Damages Your Belongings.
Compare Removal Companies Quotes
Get quotes quickly and easily from a removals near you.
Your Office Removal London Company Will Have Insurance
Speaking of insurance, this in itself is another reason why you should hire a moving company that provides office removals services. You will have peace of mind knowing that experts protect you from any unforeseen expenses like the aforementioned office furniture repairs and office equipment replacement.
This also means you will be protected from the cost of hiring an office removals team that is not protected by insurance. This is a huge expense to take on for your business and one you want to avoid at all costs.
You may also look into purchasing additional office removal insurance for your upcoming move. Be sure to check with your office movers if they are selling such insurance policies or if they are in partnership with companies that do. After all, you may get an insurance policy for cheaper this way.
Here's Everything You Must Know About Removals Insurance.
The Business Can Remain Operational
When you are moving offices, you will inevitably have to shut down your business for some time. This can be costly in wasted wages and missed productivity, not to mention the costs of moving the furniture or equipment replacement.
If you are hiring removals services, they will take care of all this for you so that your staff members do not need to stop working and everyone gets back on track quickly when it is over.
Of course, you will still need to dedicate days solely for the move, but with London office removals services on the job, downtime due to moving offices will be minimised.
There Will Be Less Stress For You And Your Removal Team
Moving offices is a stressful endeavour, and it can be even more so if you and your team are juggling any other responsibilities alongside the move.
Hiring London office removals services will take that pressure off your shoulders because they know what needs to happen before the big day arrives. They'll help ensure there's no last-minute scrambling or unforeseen expenses by making sure everything is planned out beforehand.
And because your employees are not stretching themselves too thin, productivity and morale among your team members will increase.
You'll also be free from any mistakes made on account of exhaustion, stress, or trying too hard to do it yourself when there's somebody who has done this before and can provide invaluable guidance as well as expertise. It's essential not only for yourself but also for those around you that things go smoothly, so everybody stays healthy and happy throughout the process.
How Do I Find The Best Office Removals Company In London?
Now that you know why you should hire an office removals company for your office move, here are some tips on how exactly you can find the best movers to help you out!
Check the Company's Reviews Online
There are many different review websites for movers. You can use these to find reviews on potential companies that you're interested in; however, it's important to note that sometimes people will post fake reviews, so be careful! This doesn't mean you should completely disregard them, but do some research before choosing one.
There are also a lot of forums where people talk about their experiences with various companies. This is an excellent way to get feedback from professionals and first-time customers who have used this type of professional service before.
In addition, don't forget to check out your prospective company's website and social media sites for reviews.
Here are more Reasons Why You Should Read Removals Reviews Before Hiring A Particular Company.
Compare Multiple Office Removals Service Providers Before Hiring One
Before you choose an office moving company to help you with your office move, you'll need to compare a few of them. This is the most critical step in avoiding costly mistakes that could have been avoided with more research.
It's not uncommon for companies to offer low rates and then provide unsatisfactory services. Some even don't show up on moving day, leading to delays and missed deadlines.
There are many things you should consider when selecting an office removal company: quality of service, how long they've been serving customers, customer reviews, and price range, among other factors like previous experience with similar projects (i.e., has this particular removalist ever moved a business).
You may find it helpful to make a chart before contacting any companies so that you will be able to quickly and easily compare the information.
Understand How Office Removals Costs Are Computed
There is no standard cost for London office removals services. Instead, every moving company computes a specific office relocation based on different factors like the move's size, distance, and complexity. Others will also include additional charges for packing, the cost of each item or box, and furniture moving services.
However, there are ways to know beforehand if you're dealing with a reputable company. For example, some companies charge by the hour or offer flat rates calculated per square meter (e.g., £50/hour). It is best to find these things out before signing the contract.
The price for office removals services in London is also determined by your willingness to do some of the work yourself and how much you can pack on your own. Packing all of your belongings may seem like a daunting task, but it's not that difficult if you have professional help from an experienced moving company.
Read more about how house and office removals costs are computed here.
Some Office Relocation Tips To Remember
Meanwhile, to make your office relocation in London much more manageable, here are some tips you will want to keep in mind:
1. Make sure to plan youroffice move thoroughly. While commercial removals services will help you out with the physical aspects of the move, there are parts of the process that you will have to handle yourself. This includes determining the moving schedule, finalizing the moving office schedule, and ensuring that all business relocation tasks are performed and completed. Note that small London removals services exist if you are only moving a few items.
2. Get the entire office team involved in the process. Again, while your office removals London company is skilled enough to ensure that nothing goes wrong, it will still be beneficial to have all hands on deck, even just for little tasks like packing their workstations or decluttering the office before the movers arrive to take your belongings into the new office.
3. Declutter your office before the moving process begins. This will give you an idea ofmo which items you still need, which can go into business storage, and which ones you can dispose of. You will also find out how much office space you need and which office furniture or equipment you need more of. Lastly, doing so will also minimise the number of items you will need the office removals firm to handle, thus minimising the overall office moving cost.
For more tips on moving office, check out WhatRemovals' Moving Office Guide.
Hire A London Office Removals Firm Today
If you have been convinced that an office removals company is what you need when relocating your business to London, then you should look into hiring a reputable company that you can trust to do the job well.
To make the process of finding the best suitable moving company, you may use WhatRemovals, where you can find and compare office movers in just a few clicks! Meanwhile, if you are still looking for ways to make sure your office move to London goes off without a hitch, here are Four Mistakes You Should Avoid When Relocating Your Company.
If aside from moving your office, you are also moving houses, here are some tips on the Cheapest Places To Live In London and How To Avoid Rental Scams in London. Are you a student moving to London? Here are some Reasons You Should Hire Student Moving Services.
Compare Removal Companies Quotes
Get quotes quickly and easily from a removals near you.